Every Tuesday night, we get together with a few of our friends at my house for game night. We play a lot of things—board games, video games, and card games. Sometimes we make it a poker night. Hosting what amounts to a small party every Tuesday can be a lot of work to pull off, but it's a highlight of everyone's week, and everyone has a lot of fun.

I kept having problems with the cards we used for poker, however. I chose plastic playing cards because I knew those would outlast paper cards. As time went on, though, the ink would scratch off. The ink from the backs of the cards would transfer to the fronts. The cards would even sometimes absorb the humidity from a typical Oklahoma summer and start to bow. I tried several different brands of plastic cards but none of them did as well as I expected.

Finally, in 2012, I began the process of designing a deck of cards that met my standards. I relied on two of my artist friends for help with the graphics and the advice of several professional poker and blackjack dealers from the local casinos to create a deck that was a pleasure to deal. After two years and multiple scrapped print runs that didn't meet the quality I had in mind, I'm proud to finally be able to present Denexa 100% Plastic Playing Cards. I hope you'll have as much fun with them as I did creating them, and I hope they make your game night a little bit better.

—Scott Nazelrod
President
Denexa Games
Norman: The tabletop gaming hub of Oklahoma
Norman is the third-largest city in Oklahoma, right behind Oklahoma City and Tulsa. Many people haven't heard of it, and among those who have, the name tends to conjure up one image: football at the University of Oklahoma. But there's a different kind of game in town too—tabletop gaming. Norman has emerged as the epicenter of traditional tabletop gaming in Oklahoma: that includes roleplaying games, board games, and, yes, card games. We've known folks to come all the way from New Mexico, Montana, Indiana, and Washington state to play games here. If you're looking for a game, or you have one in mind and just need someone to play with, chances are you'll be able to find it in Norman, Oklahoma.
Denexa Games is proud to make its home here in Norman and be a part of the local gaming scene. Our Card Game Night events contribute to the community by making traditional card games accessible to new players, as well as bringing players together to enjoy a game for the first time.
Who are we?
Scott Nazelrod (Founder, President)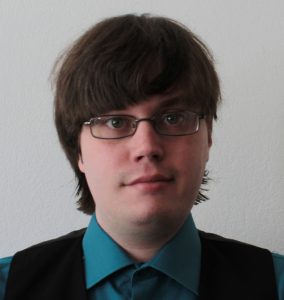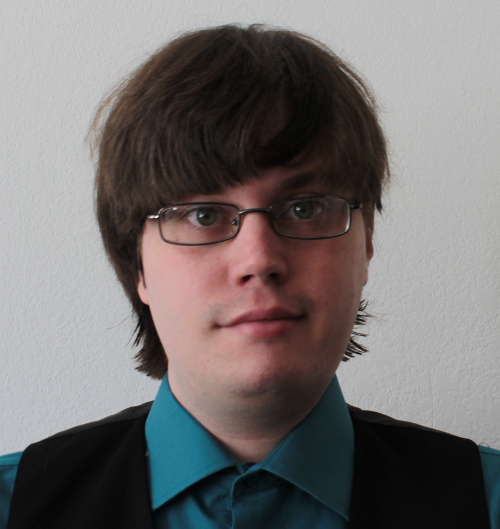 Scott Nazelrod is the founder and president of Denexa Games. Scott has always had an unhealthy obsession with playing cards; he made his first deck of cards at the age of nine, from some blank business cards his father had bought for his aviation repair business. He invented a few card games in middle school. Scott's first job was at a fast food restaurant, where he eventually rose to assistant manager, before spending six years in the casino gaming industry.
Scott founded Denexa in 2012 because he felt that with his experience in the casinos, as well as his passion for cards, he had the unique experience to do playing cards right. His management experience taught him that there was a better way to run a company, too—he strives to make Denexa a great place to work, because he feels that happy employees are the key to making happy customers.
Outside of work, Scott enjoys travel—he has been to 23 states and all 77 of Oklahoma's counties and has traveled the entire length of four Interstate highways. He also enjoys games of all types and currently holds an A rank in Splatoon.


Renee Perry (Vice-President)
Renee Perry is the vice-president of Denexa Games. She was originally one of Scott's coworkers at the first casino they both worked at. Renee spent six years in the casino gaming industry. Before that, she worked as a tech in a veterinary clinic, assisting the veterinarian with everything from routine checkups to major surgeries.
One of the defining moments in Renee's life came in 2015 when she was told that she had a Chiari malformation, which is a condition where the skull is shaped in such a way that it presses against the back of the brain, near the brain stem. In Renee's case, this causes major, debilitating migraine headaches. Fortunately, Renee's friends and coworkers have been there to help her through her struggle with this condition.
Renee is a member of the Chickasaw tribe and one of her favorite hobbies is playing games with her friends. Her preferred way of de-stressing is to color; she owns countless coloring books, colored pencils, and crayons. She loves dogs and owned a border collie, Copper, for almost eleven years, until his passing in 2014. After a few months, Willow, our current office dog, came into her life. It was love at first sight, and Willow has been at Renee's side ever since.
Willow (Office Dog)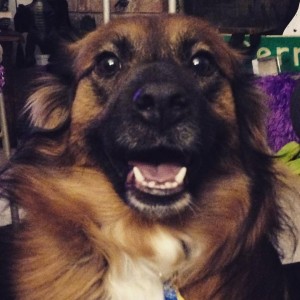 Willow was a stray dog that was taken to the pound in Lindsay, Oklahoma. No one claimed her, so she was on the list to be euthanized. But when the veterinarian came by, there was something about Willow that kept her from doing it. Instead, Willow went back to the clinic with the vet. As luck would have it, that vet was the one that Renee used to work for, and she knew that Willow would be perfect for Renee. So, they were introduced, and Willow went home with Renee pretty much immediately.
No one knows what breed Willow is. All we can say is that she's brown. Her favorite hobby is licking your face. She'll lick anyone's face. She also likes rolling around on the ground and making weird noises. She is strange and we love her.