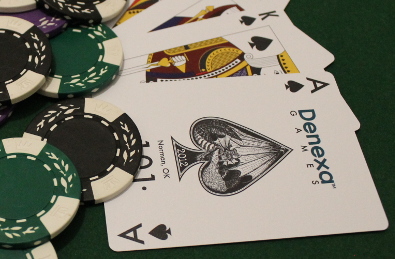 Keep your game running smoothly with our durable plastic playing cards.
Waterproof. Durable. Visible.
Playing cards for the 21st century.
---
At Denexa Games, we offer 100% plastic playing cards, which last longer than competing playing cards, so you can keep playing, hand after hand. Our high-performance cards were designed with the input of professional dealers to ensure that you get the best possible gaming experience. Why should you choose Denexa 100% Plastic Playing Cards? It's simple…



Waterproof

Because our cards are made of plastic, liquids roll right off of them. Wipe our waterproof cards off with a cloth and you're ready to shuffle up and deal again. Paper playing cards are porous, causing them to absorb the moisture, which causes them to warp, bow, and fall apart.




Durable

The problem with playing cards is that if just one card fails, the whole deck is unusable. Our durable plastic playing cards resist warping, chipping, and bending, so you get your money's worth. Plus, our scratch-resistant inks won't flake, scuff, or scratch off under typical play conditions, meaning your cards will look great and maintain game integrity for thousands of hands.




Visible

Denexa 100% Plastic Playing Cards were designed with the help of professional casino dealers who have to read cards and interpret hands all day long. That's why our cards use easy-to-read typefaces and large, high-visibility pips, making cards easy to distinguish. Denexa cards help your players read the flop, even from the seats at the end of the table.